OpenActive Enabled badge
The 'OpenActive Enabled' badge highlights organisations that publish and use open data to OpenActive data standards.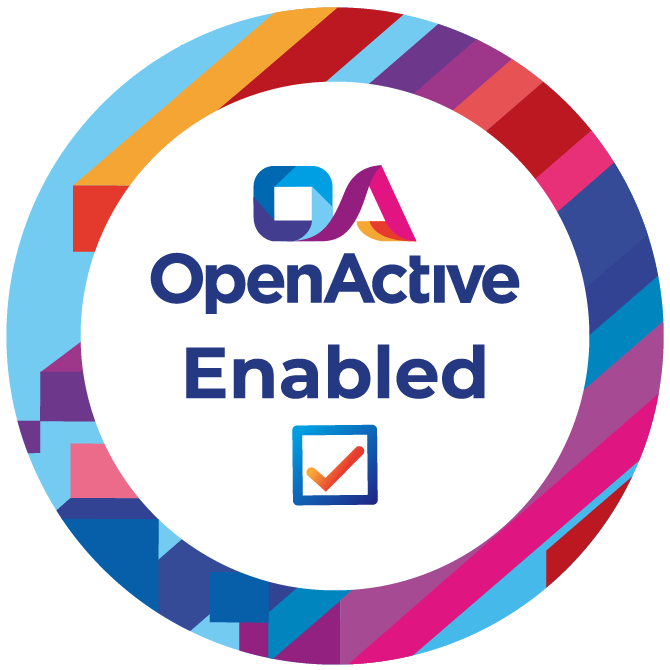 Why use the badge?
The badge is to highlight and celebrate an organisation's commitment to OpenActive. Using the badge:
lets your customers and wider stakeholders know that you publish and/or use open data
signifies that your organisation is a digital leader in the sector
spreads awareness of OpenActive across the sector, which will encourage more people to use and/or publish data openly

How can I use the badge?
We designed the OpenActive Enabled badge for use on websites, in email footers, in presentations – wherever you like! Provided you meet the terms below.
Reproduction and/or use of the OpenActive Enabled badge is restricted to organisations that:
publish open data that conforms to one or more of the OpenActive data standards; or
produce systems, services or tools that create/or consume OpenActive-conformant data for their clients and users; and
this data is updated on a regular basis and does not refer solely to events or activities in the past; and
interruptions to the availability or conformance of this data do not exceed 14 days
Organisations must use the HTML snippet provided when using the OpenActive Enabled badge on websites, in email signatures, or in any other form of electronic representation. This HTML snippet must be used exactly as given, and is not to be changed, edited, or altered in any way.
Copy and paste:
<div class="openactive-enabled" title="OpenActive Enabled Badge"><a href="https://www.openactive.io/openactive-enabled-badge/‎"><img alt="OpenActive Enabled Badge" src="https://openactive.io/brand-assets/OpenActive-Enabled-badge.png" height="150" width="150" /></a></div>
The OpenActive initiative reserves the right to revoke use of the Enabled badge at any time. We may revise these terms of use by amending this page. Some of the provisions contained in these terms of use may also be replaced by provisions or notices published elsewhere on our site. The OpenActive initiative and its intellectual property is governed by English law.